Product Details
SLIDE Acoustic extensively models the sound of an acoustic steel string guitar played with a slide, commonly heard in blues and country/folk music. Rather than including pre-recorded slide articulations, which would limit the intervals and speeds of sliding, we've developed an ultra-realistic slide engine that models all the nuances related to slide articulations. This includes everything from keeping the slides timbre-correct as well as the noise of the actual slide moving on the strings. This also applies to vibrato as well, using a custom LFO in addition to the slide engine for realistic vibrato. We sampled the acoustic guitar with an open D tuning, a common tuning used for playing slide guitar, which has a deeper, richer tone than standard guitar tuning.
SLIDE Acoustic also includes a slew of effects, including tremolo, chorus, reverb, delay, amp modeling, and much more. That way you have complete slide guitar tones readily available right out of the box. There is a preset system that lets you load factory presets as well as your own external preset files quickly and easily.
By emphasizing realism and playability, we want playing SLIDE Acoustic to give you the same excitement and inspiration as playing a real slide acoustic steel string guitar.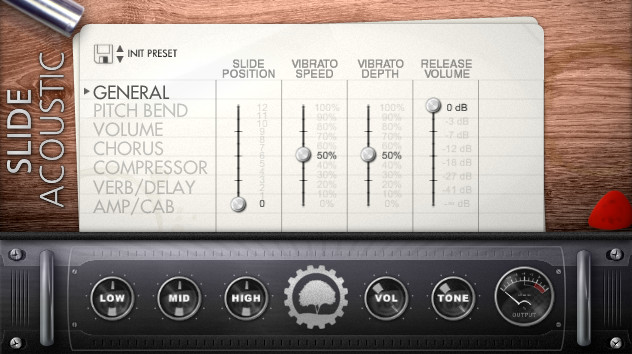 Features:
- Approx. 3 GB total 24-bit 48khz samples (uncompressed)
- 3 dynamic layers, 2x round-robin, chromatically sampled
- Duration-dependent release samples
- Palm mute and slide tap articulations
- Performance Effects: muted string plucks, string slaps, chugs
- Timbre-correct slides - correct timbre of the guitar is preserved when sliding from one note to another
- Realistic exciting of the strings when sliding or playing vibrato
Product Requirements
Available Disk Space
This product requires a total of 2.6 GB of free disk space in order to download and install the sample library. The total size of the download is 1.3 GB, and after installed the library occupies 1.3 GB.
Platform Version
Kontakt 4.2.4
This product requires the full retail version of Kontakt and is not compatible with the free Kontakt Player.
Supported Interfaces
Stand-alone, AAX Native, VST, AU
Minimum System Requirements
Windows XP, Vista, Windows 7, or newer. Mac OS X 10.5 or newer.
Product Downloads
Released: October 9, 2013 - Latest Update: April 2, 2014
Interested in more products like
SLIDE Acoustic
? Check out these product categories:
Guitars
,
SLIDE Series
---