Passion Flute is another winner for Orange Tree Samples. It has pretty much everything a rock and jazz flute enthusiast could want: great sound, incredible playability, realistic scripting, and lots of options for tweaking.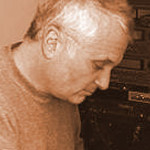 The controlled random percussive chiffs used in your mono mode, matched with the beautiful sustained flute in which vibrato and key noise can be added, in addition to your other creative programming, makes this a great virtual instrument for a wind synthesist to have in their collection.
Performer: John Williams, Danny Elfman, James Newton Howard, James Horner, Michael Brecker, Yellowjackets, Bobby McFerrin
Product Details
Whether it's for a high-adrenalin rock jam or a soft, rich ballad, Passion Flute captures the heart of jazz/rock flute with extensive multi-samples and a powerful KONTAKT script. Passion Flute™ is optimized for easy keyboard performance, and includes support for wind/breath controllers.
It's our philosophy to put the user in control whenever possible, particularly when it comes to things such as the instrument's playability and tone. That's why we kept the mic signals separate and dedicated a section of the interface to mixing them to create a variety of flute tones. We also have included a powerful settings page that gives you control over the various performance elements--everything from expression and dynamics to the different vibrato factors. You can automate these controls to any MIDI controller numbers you want using KONTAKT's convenient automation system, or even just set Passion Flute to automatically control it by analyzing your performance. That way, you have ultimate control over how you want to perform and sequence with Passion Flute.
We sampled the flute in 48,000 kHz, 24-bit, which is a great balance between size on your hard drive (affecting the library's load time and memory usage) and audio fidelity. That's over 4,600 samples, totaling 1.15 GB of flute samples. Furthermore, we sampled the flute with five different microphones, everything from modern condenser mics to a vintage ribbon mic, giving you flexibility to mix the flute however you want--or pick from the included factory presets. The mic signals were completely unaffected, so Passion Flute's real-time mixing control starts all the way back with the raw audio signals. Speaking of mixing, we also included the ability to import and export your flute mix presets. That way, you can easily share them with other Passion Flute users.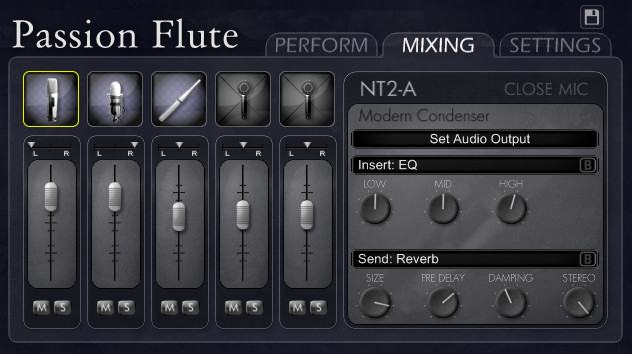 Key Features:
- 4x round robin, 5 morphing dynamic layers
- Modeled vibrato, with real-time control over speed and depth
- Overblown notes, playable harmonics
- Effects and phrases including growls, fluttertonguing, screams, and much more
- Physically modeled flute fingerings (including 150+ alternate fingerings) for accurate key noises and realistic legato
- Wind/breath controller compatible
- 5 mic positions with extensive mixing engine included
- Sampled in 24-bit / 48 KHz
Product Requirements
Available Disk Space
This product requires a total of 1.52 GB of free disk space in order to download and install the sample library. The total size of the download is 780.54 MB, and after installed the library occupies 779.72 MB.
Platform Version
Kontakt 4.2.4
This product requires the full retail version of Kontakt and is not compatible with the free Kontakt Player.
Supported Interfaces
Stand-alone, AAX Native, VST, AU
Minimum System Requirements
Windows XP, Vista, Windows 7, or newer. Mac OS X 10.5 or newer.
Product Downloads
Released: November 9, 2011 - Latest Update: October 25, 2019
---