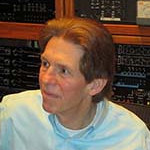 The marimba samples are recorded beautifully! The program is very user friendly and offers all the sonic possibilities the user will need!
Two-time Grammy-winning producer/songwriter/guitarist who has worked with Steely Dan, Marvin Gaye, Ray Charles, Albert King, Cheap Trick, Wayne Shorter, Joe Cocker, Al Jarreau and many others
Product Details
Orange Tree Samples is proud to present Paradise Marimba, an extensively-sampled five octave marimba with a gorgeous tone.
We collaborated with Chris Poehler of Lujon Audio to produce Paradise Marimba. While many other marimba libraries tend to sound very percussive and bright, we specifically selected this marimba for its warm, full sustain. The lowest two octaves of the marimba was so rich-sounding that we sampled it with softer bass marimba mallets as an alternate option to the standard mallets. These bass marimba mallets work excellently for ambient, cinematic music.
Paradise Marimba accompanies our Pure Jazz Vibes sample library, also recorded at WaterSound Productions, in Studio City, California. As with the vibraphone library, Michael Aarvold engineered the session.
We always aim to recreate the playability of the real instrument as closely as possible, which is why we included realistic playable rolls. These scripted rolls recreate the same way a real marimba player divides the notes between mallets when playing a roll, plus make it very convenient to incorporate into your playing using the mod wheel. The velocity and speed of the rolls can also be dynamically changed in real-time. Additionally, there are repeat keys available on the keyboard which simply repeat the last note or chord you played--that way you can essentially play your own rolls.
Paradise Marimba also includes an articulation that we've never seen available in any other marimba sample library: staccato hits. That's when the marimba player hits the bars of the marimba and holds the mallets against them in order to quickly mute them, creating a staccato effect.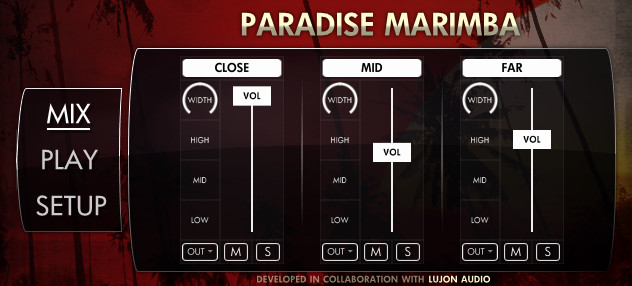 Features:
- 3.9 GB of 24-bit samples (compressed to 1.4 GB using Kontakt's lossless NCW compression)
- Up to 11x round-robin with four dynamics, chromatically sampled
- Realistic playable rolls
- Separate close, mid, and far mic signals for mixing flexibility
- Alternate bass marimba mallets, muted hit articulation
Demo Version:
There is a free playable demo version of Paradise Marimba available for you to try. Other than the range being limited, and round-robin being limited to 2x, there are no other demo restrictions.
Product Requirements
Available Disk Space
This product requires a total of 2.9 GB of free disk space in order to download and install the sample library. The total size of the download is 1.3 GB, and after installed the library occupies 1.6 GB.
Platform Version
Kontakt 4.2.4
This product requires the full retail version of Kontakt and is not compatible with the free Kontakt Player.
Supported Interfaces
Stand-alone, AAX Native, VST, AU
Minimum System Requirements
Windows XP, Vista, Windows 7, or newer. Mac OS X 10.5 or newer.
Product Downloads
Released: September 5, 2014 - Latest Update: January 8, 2016
---