Audio Demos
---
Special thanks to the following artist for licensing their composition. The original acoustic guitar track in their song were replaced with Evolution Songwriter to demonstrate how the virtual instrument sounds in the context of a full arrangement. We encourage you to check out their work and support them at the following link:
Product Details
We are pleased to present Evolution Songwriter, a faithful reproduction of the legendary Gibson J-45, a steel string acoustic guitar that can be heard on countless singer-songwriter albums over the past decades.
This instrument was inspired by a wide range of artists, including The Beatles, Joni Mitchell, and the more modern acoustic sounds of Iron & Wine and The Dirty Projectors.
In producing this guitar, we endeavored to create an instrument with a diverse tonal palette, from iconic sounds of the '60s and '70s onward, providing a panoply of great, ready-to-use preset sound settings for songwriters and producers.
The library was developed in collaboration with William Derganc, who not only sampled the acoustic guitar, but was also closely involved with the development process, contributing factory presets, strumming patterns, and custom chord options for the library.
The sample set has also been run through a popular type of multi-track cassette tape recorder as an additional signal. The tape signal adds saturation to the sound of the guitar, and we opted to leave the pitch fluctuations and other artifacts that give the tape extra character. With the tape signal selected, you'll notice a constant noise floor playing in the background--the volume of this is adjustable, and can always be disabled completely.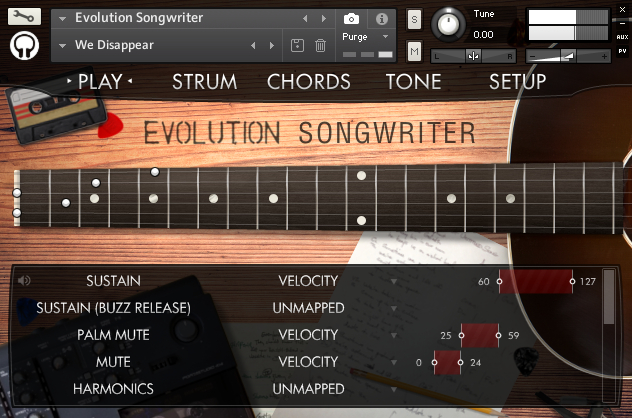 Key Features:
- Built-in effects engine for instantly-usable acoustic guitar tones.
- Adjustable pick position using our proprietary physical modeling technology.
- Powerful mapping system that lets you set how you want to trigger articulations, using conditions such as velocity ranges, MIDI CCs, latching and non-latching keyswitches, and more.
- Multitracking up to quadruple tracking.
Sampling specifications:
- 11.2 GB (compressed to 5.2 GB using the lossless NCW audio format) of 24-bit samples.
- Articulations such as sustains, palm mutes, mutes, natural harmonics, plus special effects like string slaps, guitar body hits, and more.
- MIDI articulations for instant octaves, grace notes, buzz trills, whole-step slides, whole-step hammer-ons, and slides (velocity-based and tempo-synced).
- Legato samples for slides, hammer-ons, and pull-offs.
- The articulations have 3 dynamics, 2 pick directions (when applicable), and 2x round-robin.

Evolution Songwriter licenses Native Instruments' Kontakt Player sampler software. Consequently, owning the full version of Kontakt is not necessary, and Evolution Songwriter operates without limitations within the free Kontakt Player application/plugin. This also allows the sample library to be listed in the libraries tab in Kontakt for convenient access.

Evolution Songwriter is NKS-ready. The integration with the Native Kontrol Standard presents many benefits, both when using the library in the Komplete Kontrol software as well as in conjunction with Komplete Kontrol hardware, such as the Komplete Kontrol S-Series keyboards and Maschine.
In addition to Evolution Songwriter being displayed in the Native Browser among your other Komplete Kontrol instruments, there are a variety of other benefits. For example, thanks to Native Instruments' Native Map® technology, you can control the library's various parameters directly through connected hardware right out of the box. Furthermore, the keyswitches and key ranges are shown using Light Guide, an innovative technology that displays the key colors directly on your Komplete Kontrol S-Series keyboard.
We recommend using Evolution Songwriter with a Komplete Kontrol S-Series keyboard for the full experience. While not a requirement, you will be able to take advantage of the Native Kontrol Standard for an intuitive connection between software instruments and hardware.
Product Requirements
Available Disk Space
This product requires a total of 11.4 GB of free disk space in order to download and install the sample library. The total size of the download is 5.7 GB, and after installed the library occupies 5.7 GB.
Platform Version
Kontakt Player 5.6.8 (free)
Supported Interfaces
Stand-alone, AAX Native, VST, AU
Minimum System Requirements
Windows 7, 8, or 10. Mac OS X 10.9 or newer.
Product Downloads
Released: November 10, 2017 - Latest Update: November 16, 2023
---