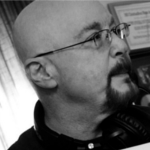 Having the excellent Orange Tree "Evolution Mandolin" as a part of my virtual instrument collection has really expanded my ability to add color to my acoustic based productions…which I expected. What I didn't anticipate was how really neat adding the Evolution Mandolin to my alternative and harder edged productions. The GUI is familiar for those of us with OT's Evolution guitar series, and there are limitless possibilities of timbres and FX possible. More importantly, straight out of the box, the instrument itself is just so REAL, beautifully recorded and easy to work with. The provided riffs are quite idiomatic, and there is, of course the option to manually play your own riffs when desired. I love this thing! Overall, for me a 10.
Producer/Songwriter
Product Details
If you need a realistic mandolin that works perfectly for country, folk, and Americana, look no further! Meticulously sampled, Evolution Mandolin features multiple round-robin in both pick directions for ample variation while playing. Its three velocity layers offer a wide, expressive dynamic range. In addition to all the staple articulations, including palm mutes, harmonics, and legato, we also sampled misfretted notes that can be interspersed in your mandolin performance for additional realism.
Evolution Mandolin brings you all the latest features from our Evolution guitar engine: an innovative strumming pattern editor, automatic chord detection, and a robust effects engine. Its abundant factory presets provide you with ready-to-use mandolin tones that fit right into the mix.
We developed the library in collaboration with Rosewood Recording Company, one of Utah's most venerable recording studios. Guy Randle, the owner and recording engineer at Rosewood Recording Company, incorporated analog audio equipment to skillfully sculpt and emphasize the rich tonal qualities of the mandolin.
For the sampling session, Guy Randle recorded the versatile multi-instrumentalist Ryan Tilby. Known for his broad palette of sounds and styles, Ryan Tilby has performed at Telluride, Merlefest, FanFest, RockyGrass, and countless of other festivals throughout the United States, as well as having toured Europe multiple times. His music has been featured on Duck Dynasty, the Discovery Channel, and on Outdoor Photo Adventures. Ryan Tilby also offers remote recording services for clients around the world needing guitar, banjo, bass, mandolin, and ukulele tracks.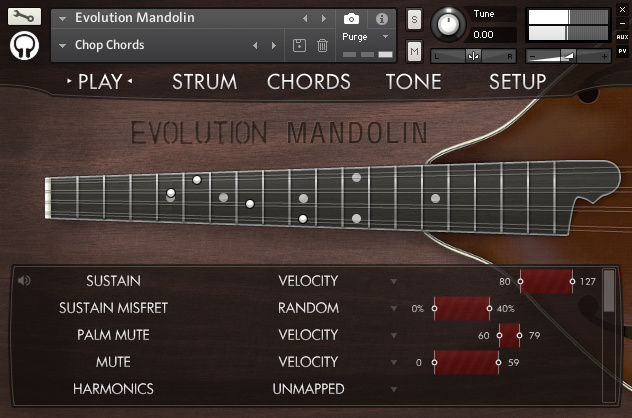 Key Features:
- Built-in strum pattern editor for authentic mandolin strumming.
- Adjustable pick position using our proprietary physical modeling technology.
- Powerful mapping system that lets you set how you want to trigger articulations, using conditions such as velocity ranges, MIDI CCs, latching and non-latching keyswitches, and more.
- Multitracking up to quadruple tracking.
Sampling specifications:
- 2.5 GB (compressed to 1.05 GB using the lossless NCW audio format) of 24-bit samples.
- Articulations such as sustains, tremolo, palm mutes, mutes, natural harmonics, plus special effects like string slaps, muted strums, and much more, including misfretted sustains that can be randomly triggered for additional realism.
- MIDI articulations for instant upward/downward grace notes, buzz trills, whole-step slides, whole-step hammer-ons, slides (velocity-based and tempo-synced), octaves, and powerchords.
- Legato samples for slides, hammer-ons, and pull-offs.
- The articulations have 3 dynamics, 2 pick directions (when applicable), and 2x round-robin.

Evolution Mandolin licenses Native Instruments' Kontakt Player sampler software. Consequently, owning the full version of Kontakt is not necessary, and Evolution Mandolin operates without limitations within the free Kontakt Player application/plugin. This also allows the sample library to be listed in the libraries tab in Kontakt for convenient access.

Evolution Mandolin is NKS-ready. The integration with the Native Kontrol Standard presents many benefits, both when using the library in the Komplete Kontrol software as well as in conjunction with Komplete Kontrol hardware, such as the Komplete Kontrol S-Series keyboards and Maschine.
In addition to Evolution Mandolin being displayed in the Native Browser among your other Komplete Kontrol instruments, there are a variety of other benefits. For example, thanks to Native Instruments' Native Map® technology, you can control the library's various parameters directly through connected hardware right out of the box. Furthermore, the keyswitches and key ranges are shown using Light Guide, an innovative technology that displays the key colors directly on your Komplete Kontrol S-Series keyboard.
We recommend using Evolution Mandolin with a Komplete Kontrol S-Series keyboard for the full experience. While not a requirement, you will be able to take advantage of the Native Kontrol Standard for an intuitive connection between software instruments and hardware.
Product Requirements
Available Disk Space
This product requires a total of 2.57 GB of free disk space in order to download and install the sample library. The total size of the download is 1.37 GB, and after installed the library occupies 1.2 GB.
Platform Version
Kontakt Player 5.5.2 (free)
Supported Interfaces
Stand-alone, AAX Native, VST, AU
Minimum System Requirements
Windows 7, 8, or 10. Mac OS X 10.9 or newer.
Product Downloads
Released: September 20, 2016 - Latest Update: March 19, 2021
---