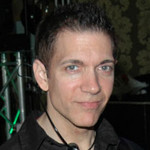 With its killer tone, fantastic preset list, and great bass cab selection, this is one must-have bass library!!
Producer/Composer/Musician, Composer for "Alex 2GUNS" Web Series
Product Details
Evolution Flatwound Bass features a vintage P-style electric bass equipped with flatwound strings for a deep, rich tone.
We developed the library in collaboration with Rosewood Recording Company, one of Utah's most venerable recording studios. Guy Randle, the owner and recording engineer at Rosewood Recording Company, incorporated analog audio equipment to skillfully sculpt and emphasize the rich tonal qualities of the bass, available as an enhanced signal provided in addition to the as-recorded signal.
For the sampling session, Guy Randle brought in veteran bassist Rob Honey. As a recording session player, Rob Honey has appeared on a large number of CDs, motion picture soundtracks, and television commercials and programs. He toured with the Donny and Marie show and is the bass player with the band Enoch Train. Rob is also an accomplished arranger and songwriter. He was a staff writer with Starstruck Writer's Group—Reba McEntire's publishing company. He has had songs recorded by Diamond Rio, Faith Hill and many LDS market artists. His song "Norma Jean Riley" was a number one hit and a Radio & Record country song of the year.
Evolution Flatwound Bass is outfitted with our Evolution guitar engine which provides you with a wealth of appointments: customizable mapping system, configuration for the instrument's tone and playability, and a robust effects suite. The library includes many factory presets for ready-to-use classic and modern bass tones that fit right into the mix.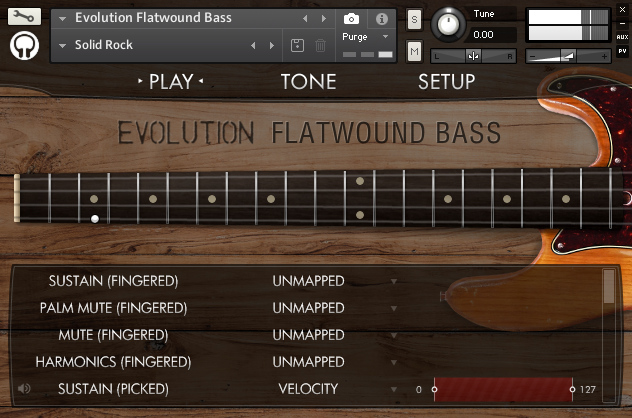 Key Features:
- Built-in effects engine for instantly-usable bass tones.
- Adjustable pick position using our proprietary physical modeling technology.
- Powerful mapping system that lets you set how you want to trigger articulations, using conditions such as velocity ranges, MIDI CCs, latching and non-latching keyswitches, and more.
Sampling specifications:
- 6.3 GB (compressed to 2.8 GB using the lossless NCW audio format) of 24-bit samples.
- Articulations such as sustains, palm mutes, mutes, and natural harmonics in fingerstyle and picked playing styles as well as slapping, popping, and performance effects like string slaps, slides, and much more.
- MIDI articulations for instant octaves, grace notes, buzz trills, whole-step slides, whole-step hammer-ons, and slides (velocity-based and tempo-synced).
- Legato samples for slides, hammer-ons, and pull-offs.
- The articulations have 3 dynamics, 2 pick directions (when applicable), and 2x round-robin.

Evolution Flatwound Bass licenses Native Instruments' Kontakt Player sampler software. Consequently, owning the full version of Kontakt is not necessary, and Evolution Flatwound Bass operates without limitations within the free Kontakt Player application/plugin. This also allows the sample library to be listed in the libraries tab in Kontakt for convenient access.

Evolution Flatwound Bass is NKS-ready. The integration with the Native Kontrol Standard presents many benefits, both when using the library in the Komplete Kontrol software as well as in conjunction with Komplete Kontrol hardware, such as the Komplete Kontrol S-Series keyboards and Maschine.
In addition to Evolution Flatwound Bass being displayed in the Native Browser among your other Komplete Kontrol instruments, there are a variety of other benefits. For example, thanks to Native Instruments' Native Map® technology, you can control the library's various parameters directly through connected hardware right out of the box. Furthermore, the keyswitches and key ranges are shown using Light Guide, an innovative technology that displays the key colors directly on your Komplete Kontrol S-Series keyboard.
We recommend using Evolution Flatwound Bass with a Komplete Kontrol S-Series keyboard for the full experience. While not a requirement, you will be able to take advantage of the Native Kontrol Standard for an intuitive connection between software instruments and hardware.
Product Requirements
Available Disk Space
This product requires a total of 6.35 GB of free disk space in order to download and install the sample library. The total size of the download is 3.16 GB, and after installed the library occupies 3.18 GB.
Platform Version
Kontakt Player 5.7.0 (free)
Supported Interfaces
Stand-alone, AAX Native, VST, AU
Minimum System Requirements
Windows 7, 8, or 10. Mac OS X 10.10 or newer.
Product Downloads
Released: February 22, 2019
---