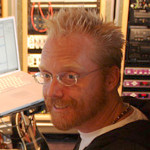 Man, this thing is totally wicked! I was just jamming out with Evolution Dracus and it literally felt like I had picked up a guitar. I found it really inspiring and easy to add effects to create my own tone. Having the extra low notes really adds to the whole experience, making it a lot easier to get some heavy sounding stuff!
Zack and Miri, Clerks II, Scary Movie 3/4/5, Samurai Jack
Product Details
Hailing from the fiery core of the earth comes the hottest virtual 8 string guitar library for metal and rock. Evolution Dracus covers a wide variety of techniques and articulations, whether it's epic shredding leads or gigantic quadruple-tracked rhythm tracks. The sample library boasts an expansive note range, from piercing shrieks in the highest register to monstrous growls emanating far below a standard 6 string guitar's capabilities. Evolution Dracus's robust effects engine features a myriad of virtual stompboxes, rack effects, amps, and guitar cabinets to select from. The library also includes a ton of factory presets for instantly usable clean, crunchy, and distorted tones. With 17 GB of sample content and well over 15,000 samples, this powerhouse electric guitar sample library covers palm mutes, pinch harmonics, tapping, legato articulations like hammer-ons and pull-offs, slides, muted chugs, string scrapes, and much more.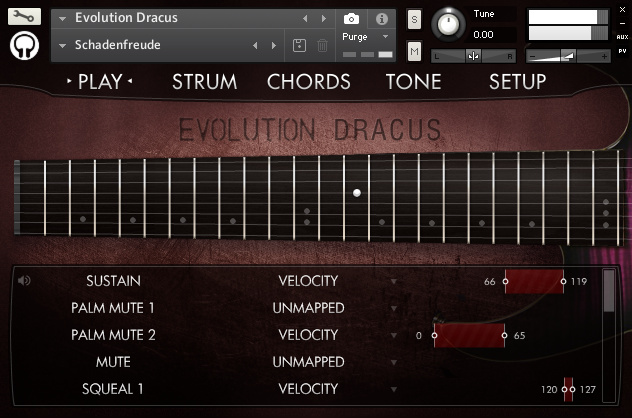 Key Features:
- Multitracking up to quadruple tracking.
- Adjustable pick position using our proprietary physical modeling technology.
- Various vibrato styles, from classic vibrato to rock and metal vibrato with adjustable depth/speed. Vibrato can be assigned to MIDI CCs or aftertouch.
- Powerful mapping system that lets you set how you want to trigger articulations, using conditions such as velocity ranges, MIDI CCs, latching and non-latching keyswitches, and more.
- Built-in strum pattern editor for authentic guitar strumming.
Sampling specifications:
- Over 15,000 samples, recorded in 24-bit, 48khz.
- Articulations such as sustains, half palm mutes, full palm mutes, mutes, squeals, tapping, natural harmonics, plus special effects such as chugs, scratches, string slaps, and much more.
- MIDI articulations for instant upward/downward grace notes, buzz trills, whole-step slides, whole-step hammer-ons, slides (velocity-based and tempo-synced), octaves, and powerchords.
- Legato samples for slides, hammer-ons, and pull-offs.
- The articulations have 3 dynamics, 2 pick directions (when applicable), and 2x round-robin.
- Separate pickup signals for controllable pickup blend.

Evolution Dracus licenses Native Instruments' Kontakt Player sampler software. Consequently, owning the full version of Kontakt is not necessary, and Evolution Dracus operates without limitations within the free Kontakt Player application/plugin. This also allows the sample library to be listed in the libraries tab in Kontakt for convenient access.

Evolution Dracus is NKS-ready. The integration with the Native Kontrol Standard presents many benefits, both when using the library in the Komplete Kontrol software as well as in conjunction with Komplete Kontrol hardware, such as the Komplete Kontrol S-Series keyboards and Maschine.
In addition to Evolution Dracus being displayed in the Native Browser among your other Komplete Kontrol instruments, there are a variety of other benefits. For example, thanks to Native Instruments' Native Map® technology, you can control the library's various parameters directly through connected hardware right out of the box. Furthermore, the keyswitches and key ranges are shown using Light Guide, an innovative technology that displays the key colors directly on your Komplete Kontrol S-Series keyboard.
We recommend using Evolution Dracus with a Komplete Kontrol S-Series keyboard for the full experience. While not a requirement, you will be able to take advantage of the Native Kontrol Standard for an intuitive connection between software instruments and hardware.
Product Requirements
Available Disk Space
This product requires a total of 15.49 GB of free disk space in order to download and install the sample library. The total size of the download is 7.74 GB, and after installed the library occupies 7.74 GB.
Platform Version
Kontakt Player 5.5.2 (free)
Supported Interfaces
Stand-alone, AAX Native, VST, AU
Minimum System Requirements
Windows 7, 8, or 10. Mac OS X 10.9 or newer.
Product Downloads
Released: July 29, 2015 - Latest Update: November 16, 2023
---