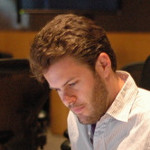 It's the first thing I go to when I need an acoustic guitar. It's such an incredibly playable and expressive instrument! Yes, I'm calling it an instrument and not just a sample library. It's become an integral part of my palette and I recommend it highly! Orange Tree Samples has certainly set a standard for guitar libraries!
Additional music for Gears of War 2, Gears of War 3, The Sims 3, Friday the 13th, Desperate Housewives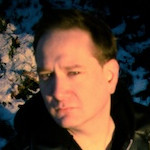 Orange Tree Samples are essential in my post-production toolkit. On a recent remix, I needed to change an electric guitar to an acoustic one; there was no time to track anything. Melodyne polyphonic and Orange Tree Samples were a perfect solution.
Executive producer/engineer, Flying Colors: Steve Morse, Dave LaRue, Mike Portnoy, Casey McPherson
...[A]n incredible product. Not only does it have almost every feature imaginable, the sound is absolutely gorgeous...[Y]ou'll be hard pressed to find a better sampled acoustic guitar. The articulations and level of control are outstanding. The interface is easy to use and easy on the eyes. Most importantly, the sound is incredibly realistic.
Product Details
Until now, if you wanted a realistic acoustic guitar in your productions, the only serious option was to use a real guitarist. Numerous sample libraries and virtual instruments have come and gone that proclaimed realism, but fell far short of delivering on that promise. At best, they could be used to fill in a guitar part in pre-production mock ups that would later need to be replaced by a real guitar performance. All were better buried in the mix rather than exposed.
Announcing Evolution Steel Strings, the acoustic guitar sample library that will change your perception of what is possible for MIDI-based guitar simulation.
Evolution Steel Strings presents a breakthrough in sampled acoustic guitar. No other acoustic guitar sample library or virtual instrument has achieved the same level of realism. From single notes to chord strums, Evolution Steel Strings uses a combination of sampling, scripting, and physical modeling-based principles to bring you an astonishingly easy to play KONTAKT sample library with results so realistic they can be used in final productions with confidence.
Listen to the demos for yourself. Let your ears be the judge.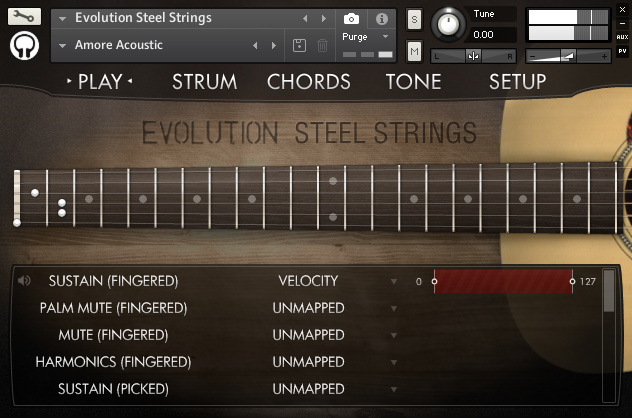 Key Features:
Evolution Steel Strings features an iconic, Martin D16R steel string acoustic guitar recorded in stereo with top-notch mics and preamps in 24-bit, 48 khz for the best tone and fidelity possible. While most acoustic guitar sample libraries are sampled using only one mic, we used stereo micing, for a more natural tone, and also adjustable stereo width. The superior construction of the guitar used resulted in minimal buzzing on even the hardest hit notes. (Buzzing is an often cited problem with some of the popular acoustic guitar libraries for KONTAKT on the market.)
Features include:
- Both fingered and picked articulations totaling 6.5 GB of uncompressed samples.
- Extensive scripting from the Evolution guitar engine, makes for an intuitive, instant playable library from either or a MIDI keyboard or when sequencing.
- Individually sampled strings, powered by a performance modeled string/fret selection engine.
- A proprietary resonance engine for unparalleled organic realism from a sample library.
- 4x alternating samples to avoid the machine gun effect when repeating notes.
- A unique monophonic/polyphonic hybrid. Play legato lead lines or chordal parts in a single patch.
- Alternate tunings that not only change the range of the instrument, but also realistically alter the tone of individual strings.
- Legato articulations, including slides.

Evolution Steel Strings licenses Native Instruments' Kontakt Player sampler software. Consequently, owning the full version of Kontakt is not necessary, and Evolution Steel Strings operates without limitations within the free Kontakt Player application/plugin. This also allows the sample library to be listed in the libraries tab in Kontakt for convenient access.

Evolution Steel Strings is NKS-ready. The integration with the Native Kontrol Standard presents many benefits, both when using the library in the Komplete Kontrol software as well as in conjunction with Komplete Kontrol hardware, such as the Komplete Kontrol S-Series keyboards and Maschine.
In addition to Evolution Steel Strings being displayed in the Native Browser among your other Komplete Kontrol instruments, there are a variety of other benefits. For example, thanks to Native Instruments' Native Map® technology, you can control the library's various parameters directly through connected hardware right out of the box. Furthermore, the keyswitches and key ranges are shown using Light Guide, an innovative technology that displays the key colors directly on your Komplete Kontrol S-Series keyboard.
We recommend using Evolution Steel Strings with a Komplete Kontrol S-Series keyboard for the full experience. While not a requirement, you will be able to take advantage of the Native Kontrol Standard for an intuitive connection between software instruments and hardware.
Product Requirements
Available Disk Space
This product requires a total of 7.18 GB of free disk space in order to download and install the sample library. The total size of the download is 3.68 GB, and after installed the library occupies 3.5 GB.
Platform Version
Kontakt Player 5.5.2 (free)
Supported Interfaces
Stand-alone, AAX Native, VST, AU
Minimum System Requirements
Windows 7, 8, or 10. Mac OS X 10.9 or newer.
Product Downloads
Released: November 6, 2015 - Latest Update: March 19, 2021
---