Orange Tree Samples is proud to present Evolution Electric Guitar - Stratosphere, the latest installment of our popular Evolution guitar line. Evolution Electric Guitar - Stratosphere features the fifth generation of our Evolution guitar engine, with many new features, including a built-in strum pattern editor, custom chord voicings, tons of new effects, and more.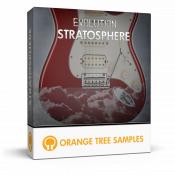 When we introduced our line of guitar sample libraries in 2008, it represented a stunning leap forward in sampled guitar realism. Today, you'll find the Evolution line of guitars and basses in final productions of numerous movie and television scores, trailers, games, even pop hits...
Read more, watch demonstration videos, and listen to audio demos...
Posted on December 18, 2014
---