AVAILABLE MAY 31st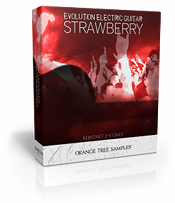 Evolution Electric Guitar - Strawberry, the first guitar in Orange Tree Samples' Evolution line, represents the next generation of guitar sample libraries and a leap forward in realism. Using a combination of state of the art sampling techniques, proprietary scripting, and physical modelling principles, Evolution Electric Guitar - Strawberry sounds so realistic, you'll find that sampled guitar is no longer just a stand-in for a real guitar track, it's good enough for the final production. Evolution Electric Guitar - Strawberry includes all the samples from the original Strawberry Extended Electric Guitar library, plus an entirely new strumming component with 1 GB of new content. The lead guitar component, originating from Strawberry Electric Guitar, also has an improved interface and additional features.
Evolution Electric Guitar enables keyboardists to easily and quickly create authentic sounding electric guitar parts without the need to hand edit MIDI. Unlike conventional high-end KONTAKT guitar sample libraries and guitar VSTs, Evolution Electric Guitar doesn't require keyboardists to possess a foundational understanding of how to play the guitar in order to achieve authentic results. Instead, it leverages your existing keyboard skills, translating these techniques for the guitar, much like a skilled language interpretor translates one language into another. For example, chord inversions are automatically analyzed and the appropriate guitar chord voicing is instantly determined. Strummed guitar chord options are only limited by your imagination -- whether it's power chords, triads, augmented chords, diminished chords, suspended fourths, 7ths, 9ths, 11ths, "Hendrix chords" -- it's all possible.
Evolution Electric Guitar utilizes sophisticated scripting instead of requiring you to memorize dozens of keyswitches and contains extensive articulations, from palm mutes to trills to pinch harmonics, accurately simulating a real life guitar performance. It features the detail and nuances that bring a guitar performance to life. Its proprietary string resonation engine creates a sense of organic realism unparalleled by other guitar sample libraries or VSTs. Even more, Evolution Electric Guitar, doesn't require you to compromise your playing or sequencing workflow in order to adapt to its way of working -- instead, it uses Orange Tree Samples' revolutionary Mind Control (TM) technology to adapt to the way you like to work. Sample library mapping is quickly and easily customized to your personal preference.
Evolution Electric Guitar consists of two key components: a rhythm guitar engine -- which includes Orange Tree Samples powerful and advanced, yet easy to use, chord strumming functionality -- and a lead guitar engine. The strumming engine automates the time consuming task of sequencing realistic rhythm guitar parts, including an intelligent chord detection engine, which instantly translates chords on the keyboard into guitar voicings on the fretboard. Popular studio techniques like double tracking are performed with the touch of a button. Want to detune or capo the guitar? It's all easily done, and switching to alternate tunings not only affect the range of the instrument, but change the tone of the individual strings. To provide the greatest versatility, Evolution Electric Guitar was recorded dry so that users can choose their favorite select amp simulation and effects to attain just the right sound, from pop to rock to funk to hip hop to jazz.
Evolution Electric Guitar is compatible with KONTAKT 2-4, and will have a list price of $199. Upgrades from the original Strawberry and Strawberry Extended sample libraries will be available.
There is currently a group buy, which offers up to 50% OFF on all Orange Tree Samples products. The group buy even includes Evolution Electric Guitar - Strawberry -- so you could order it for as low as $99 USD. Click here for more information and to participate.
Audio Demos:

Scarlet Queen
Slithery Tattoo
Funkulous
Evolution Funk Guitar
Specifications:
LEAD GUITAR


Instantly playable--perform from a MIDI keyboard or sequence easily and intuitively.

Alternate tunings which not only change the range of the instrument, but also the tone of individual strings.

4x alternating samples for realistic repeating notes.

Unique monophonic/polyphonic hybrid. Play legato lead lines or chordal parts in a single patch.

Proprietary resonance engine adds unparalleled organic realism.

Polyphonic slide engine allows you to slide from one note to any other.

Each string sampled individually, powered by a performance modeled string/fret selection engine.

Three pickup positions: Bridge, Neck, Bridge + Neck Blend.

Double-track the guitar with a single button.

Pre-roll samples anticipate notes in order to play contextual pick noises.

Features Orange Tree Samples' Mind Control(TM) for customizable mappings.

RHYTHM GUITAR


Perform complex strumming patterns with ease.

Advanced strumming pattern engine accounting for many nuances of rhythm guitar playing.

4x alternating samples.

Strumming direction automatically calculated.

Detune or capo the guitar.

Three velocity layers of strums and mutes for wide dynamic range.

Palm mute mode.

Three pickup positions: Bridge, Neck, Bridge + Neck Blend.

Double-track the guitar with a single button.

Automatic fret and hand movement noises for authentic performance.